Siege StovesTM — essential for your portable camping and backpacking gear, survival pack, bug-out bag or grab-and-go kit.
Wood-burning and Multi-Fuel SIEGE STOVESTM — Engineered For Extreme Versatility
The ultimate compact camping and survival stove: lightweight, virtually indestructible, high-efficiency, wood-burning, multi-fuel can & collapsible stoves.
There are essential items that should be in everyone's emergency survival gear, bug-out bag or camping kit. The Siege Stove Cross-Members are
one of them. With this system you can quickly convert any large food can, coffee can or IKEA canister into a powerful, efficient, lightweight, portable stove.
With two nested cans they can even be configured to function as a superior wood gas / gasifier stove!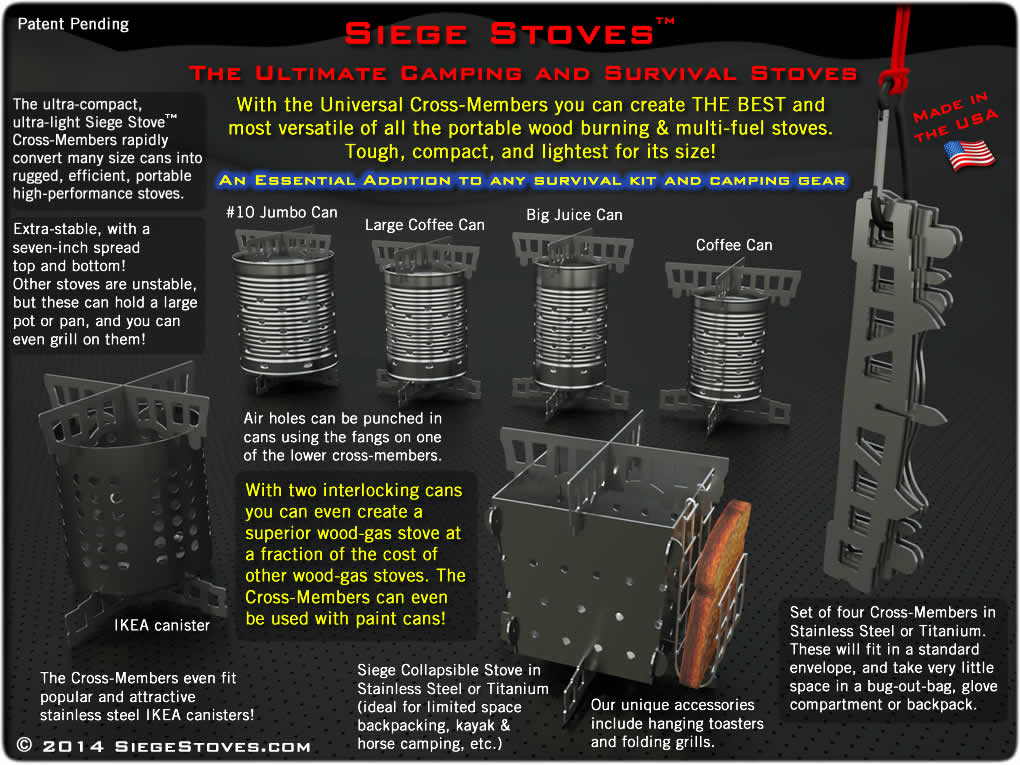 Why are our prices so low, particularly on our titanium products?
Our metals supplier is able to provide us with reclaimed offcuts from larger production jobs that they run for the aerospace industry. Because our Cross-Members and Collapsible Stove use relatively small parts, we are able to use these off-cuts to produce them, resulting in material costs that are much lower than what we expect them to be once we go into large-scale production. By getting in early on our new Siege Stove products your savings could be significant. For example, considering the capacity of the Siege Collapsible Stove, and that the parts are all titanium, the price is fantastic! 
Wood-Gas Stoves / Gasifier Stoves and Paint Can Stoves:
Using our Universal Cross-Members, you can now create a superior, low-cost wood gas / gasifier stove with several advantages over other wood-gas stoves. Find out more here.

NEW! at the request of Siege Stove owners: The Collapsible Siege Stove is now available in Stainless Steel. While the Titanium stove is lighter for long distance backpacking, the Stainless Stove is excellent for everything else including: canoeing, kayaking, whitewater rafting, horseback trips, car, motorcycle, & RV travel, and emergency survival situations for cooking at the house or homestead. It also, works fine for those hardy souls who don't mind packing a little extra weight. Both Stainless Steel and Titanium are impervious to salt water.
* Ultra-light Backpacking * Horse, Kayak, Car and Motorcycle Camping * Prepping, Survival / Emergency Preparedness *
The Siege Stove cross-members will even work with IKEA® canisters to make the best IKEA hobo stove imaginable!
You can learn more about using an IKEA kitchen cutlery caddy or utensil drainer to make a hobo stove here.
(Note: IKEA® is a registered trademark of IKEA Corp. and is not in any way associated with us at Siege Stove Works).
ANNOUNCEMENT: Our stoves were a hit at the Bay Area Maker Faire in May. Many thanks to those who stopped by our booth!


OUR NEW UNIVERSAL CROSS-MEMBERS WORK WITH ALL FOUR CAN SIZES,
PLUS IKEA CANISTERS, PLUS OUR SIEGE COLLAPSIBLE STOVE!
These are now available in Titanium and Stainless Steel.
For ultra-light Backpackers: With our unique patent pending cross-members you can quickly turn any medium or large sized can into a strong, stable, lightweight and efficient portable camp stove. The resulting stove has much more capacity than most other collapsible wood fuel camp stoves. Not just for boiling a mug or small pot of water, the Siege Stove is big enough to grill on! Grill burgers, fish, chicken, etc. This cooking experience is much more satisfying than with other folding stoves, which tend to be very small and precarious. With Siege Stoves you can have a real barbeque! You can save a bundle by using collected wood scraps and the versatile Siege Stove is also a fantastic platform and wind break for non-wood fuel sources (gas, alcohol, solid and gel petroleum-based fuels can be supported on tent pegs inside the stove). Only a very small amount of wood fuel is needed with this efficient stove. Because the cross-members can turn a can of food that you are already carrying into a stove, you don't have to have a separate fire container, so it's a great solution for space and weight-conscious backpackers. We also have an utra-compact titanium Flat Stove that fits either size cross-members and can collapse down to fit in a sandwich bag.
For Campers (horse, kayak, car and motorcycle camping, etc.): The rugged steel or titanium cross-members are virtually indestructible, store flat and work with various food cans (we sell pre-punched cans for your convenience) as well as our titanium Collapsible Stove, which quickly assembles into a large trapezoidal fire container with lots of capacity for fuel. Prepare a meal quickly without having to build a large camp fire. It's also a perfect solution for temporary camp sites where fire pits aren't available and when you want to quickly cook a meal without having to gather the large amount of wood that a pit fire requires.
For Preppers and Survivalists: You won't find a more versatile or durable survival stove anywhere! With a single set of cross-members you can quickly turn virtually any large can into a complete cooking kit that is sturdy, stable and has plenty of capacity to hold a substantial fire. If you were to order just one item, the cross-members would be it! For convenience we provide pre-punched cans - use one to store your cross-members, fire starter and other items, or you can purchase our Flat Stove that attaches to the cross-members. We even provide pre-cut wood for those who want the convenience. For extended survival and situations in which you are on the move, nothing beats wood fuel, which can be gathered as needed. Petroleum-based fuels are expensive, you have to carry them with you (adding significant weight and taking up space), and not easily obtainable during disasters. This is the ultimate hobo can stove (you can make your own coffee can stove / tin can stove / hobo stove — just be sure to add a set of cross-members to stabilize it).
The compact cross-members should be in everyone's grab-and-go pack / bug-out bag or camping kit. With just the cross-members you have a way to turn virtually any large food can into stable and highly effective stove. There simply isn't anything else like it. Put the cross-members in bag pocket or hang them from a backpack via a lanyard or carabiner and use them with food cans that you carry or find. Any time you empty the contents of a can into a pot or pan to make a meal you will have an empty can you can use as a stove! Simply punch ventilation holes in the can with a pocket knife and you are ready! Keep the can and reuse it. For added convenience we also supply new pre-punched cans, and for an ultra-compact solution we offer the titanium or stainless steel Collapsible Stove. Our stoves are made right here in America.