Now, for the first time ever:
Spring Flat-Pack Stove Sale with
Special Offer of FREE Accessories:
Free Side Toasters and Fire Poker with every Flat-Pack Stove!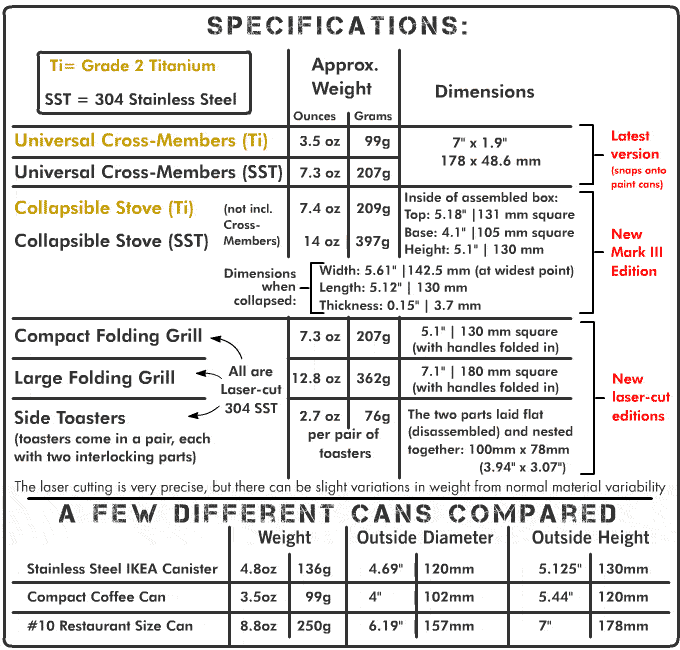 This video from Siege Stove co-founder (since retired) and inventor of the Cross-Member concept
shows early versions of the Siege Stoves and accessories in action:
(if the video below doesn't play, you can watch it on YouTube)
The latest Gen III SIEGE Flat-Pack Stove:

SIEGE Cross-Members configured with an IKEA canister, and outfitted with Side Toasters and Compact Grill:
NEW: Portable Fire Pokers - One FREE with every Flat-Pack Stove!

Details:
Handle style examples


COMPACT LIGHTWEIGHT FIRE POKER
- Stainless steel with hardwood handle

Approx. Weight: 0.6oz | 15-20g

Approx. Length: 8.5" - 9.25" | 22-24cm

** LIMITED SUPPLY **

We obtain these from various sources, as we are able to find them. Tthe handle styles vary and supplies are limited. We convert them into very handy fire pokers in our workshop. They can be used to stoke the fire through the top of your SIEGE STOVE and also through holes in the sides of the stove. Use it to shift tinder, wood and coals around inside the stove, and to tamp down any flare-ups when grilling over the stove.

Most of these are etched "Made in Japan", but we don't know if that's the source for all of them. They are all are modified here in the USA by us, to convert them into handy fire pokers.

Very useful for stoking the fire in your Siege Stove!

Being able to interact with a fire is a very satisfying and empowering activity — something innate within us is drawn to the act of stoking a fire.

Use the poker to shift tinder around to help get a fire going and to, stoke firewood and coals once the fire is established

Handle style will vary, depending on what we have available.

CLEARANCE SALE ON PREVIOUS GENERATION WIRE MESH GRILLS

COMPACT GRILL WITH
FOLD-AWAY HANDLES

Weight: 4.8oz | 136g

Dimensions: 4 1/2" x 5"

Works with all size cans and the Siege Collapsible Stove.

The handles swing inboard and tighten in place for compact storage.

Made from high quality Type 304 stainless steel mesh.

*Handles are made from flatware not made in the USA They are customized in our workshop (cut, ground, drilled and sanded smooth).


The Siege Gen 3 Flat-Pack Stove in titanium is a fantastic value for money, Made from 100% US-produced aerospace-grade titanium.
Compared to the two best known "titanium" folding stoves on Amazon: neither one is US-Made (one is made in PRC - Communist China), and neither one is 100% titanium.
They are also known for their hinges breaking down over time, and they even have special care instructions to not even tamp down the fire(!), and if one has to, to do it "very carefully", because the base plate is too weak (it is designed that way to deal with the expansion problems that the folding stoves experience). What's more, when the base plate on one of these stoves breaks the stove is rendered useless because the connected parts can't be replaced.
In addition to of all these compromises, they are also much heavier than the titanium Siege Stove and cost a lot more ($160 to $220!) The Siege Stove also outperformed both these stoves (as well as all 7 other popular stoves tested) in Be Ready Magazine Annual Survival Guide's independent review. Rather than pay $160+ for a Chinese-made stove, you can get the US-Made stove that is designed to last many generations. We also use thicker grades of titanium than is commonly used and our stoves have no finicky parts and fussy, narrowly cut patterns that will break or warp over time. In spite of titanium's high cost, we have kept our prices very low by only selling direct to customers. Cheaper Chinese-made titanium alloy stoves can be found, but these are generally small, made from very thin material that will warp unacceptably and have significant design shortcomings and limitited versatility.
We also have our Flat-Pack Stoves in stainless steel and equally high-performance canister stoves at even lower price points. We provide cans as a convenience but encourage our customers to obtain their own cans whenever practical (you can use any size can that suits your needs!). With the Siege Stove universal Cross-Members you will have the most scalable stove on the planet. Built to outlast the pyramids and with extreme versatility, the US-made Siege Stove is the choice of thousands of bushcraft and survival experts and outdoors enthusiasts around the world.
Fuels:
WOOD SCRAPS (BIO-FUEL): Thicker material will burn for longer, and is better for grilling than thinner twigs. A set of loppers is a handy item to have for cutting short sticks of about thumb-thickness. Wood scraps are free and widely available in most places (not much is needed), so you don't need to carry it with you. Sitting around a wood-burning stove is also the most pleasurable experience.
CHARCOAL: Widely available. One negative: it's dirty to handle, but the positives are: it creates minimal smoke, minimal flame, and is less than 1/2 the weight of wood. In Siege Stoves, irregular chunks are better than briquettes.
LIQUID FUELS: An alcohol stove can be placed inside a Siege Stove (can be supported at an optimal height on a pair of tent pegs that are threaded horizontally through holes in the wall of the stove). Most liquid fuels are very toxic to breathe. Pure cane alcohol such as Everclear is a healthier choice, but is difficult to get in many states, because of state laws banning high-proof alcohol.
SOLID FUEL: Hexamine tablets, such as Esbit can also be supported in a Siege Stove on a small tray. These also produce toxic fumes.
GAS: A gas stove can be placed inside a Siege Stove. You will need to select a can that is large enough. A feeder tube can be threaded through a hole you make in the side of the can.
Siege Stoves are made in the USA!
IKEA® is a trademark of IKEA Corp. and is not affiliated with Siege Stoves. We re-sell their Ordnung canisters as a convenience to our customers.

Key Words: lightweight portable camping stove compact survival stove backpacking bugout bag tin can stove hobo stove grab and go kit & bug out bag #vanlife RV stove overland overlander kayaking canoeing bug-out bag back pack backpack, how to make a hobo can stove emergency and disaster preparation preparedness essentials prepper survivalist Siege Stoves backpacker tent outdoor backcountry hiking RV trailer home pack low-cost budget efficient wood scraps collapsible hibachi folding camp fire stand grill cook set steel cross-members titanium buddy burner alcohol sterno beer can soda stove kerosine hexamine esbit tablets trangia triox gel fuel rugged stable cannister strong, durable outdoors hunter's stove fishing horse car motorcycle motorbike ATV river wood gas tornado volcano pot pan fuel magnesium fire starter swedish steel matches lighter barbeque BBQ, bushbuddy quickfire surefire jet nomad twig snowmobile recession depression EMP shtf 1989 Tiananmen Square small folding fire box energy saving honey hexagon firebox fire box tin can Flat Stove portable legs supports woods Titan Seige Stove fire starter striker ferrocerrium rod fire steel swedish steel.
Miss-spelled Key Words: Portible campng stove Seige flat pak flatpak backpaker backpackng bacpack preper trailr emurgency disastur preperation preparadness esentials buget efficent collapsable colapsible gril cook set steel cross-members buddie burner ruged stabel canister liteweight fishin canoing gass sweedish steel canping stov compat servival survivel hikeing