New Year SALE ENDS SOON!

Sale on Gen 3 Flat-Pack Stoves + a Free Pair of compact Side Toasters (a $12.99 value) + Free US shipping for every Flat-Pack Stove ordered.

Our best-in-class USA-Made SIEGE® Gen III Flat-Pack Stoves
with patented universal Cross-Members are still in stock!
Order yours now

The ultimate high-performance American-made
portable wood-burning bushcraft camping & survival stove at an awesome price
— an essential item that should be in every camping kit,
vehicle emergency pack, and bug-out-bag.

New Independent Siege Stove Review by Ben Pittsley on his popular Living Survival YouTube channel:

Recent Independent Siege Stove Review by Canadian bushcraft expert Mark Young:

Supply Chain Alert: titanium sheet metal prices are up, as are the freight fees to our fabricator, plus they are now even charging us for the pallets they ship on! ($ hundreds, due to high lumber prices). Our stainless steel source couldn't get material for four months and their prices are also up significantly. P-38's are also unavailable. We still have stoves in stock from our 2020 sheet metal orders, at the same deal we offered two years ago! Order your Siege® Stove today while these low prices hold and while we have inventory.
Note: Our advertising budget is limited and we depend on our users to share their Siege Stove experiences with friends and on social media. If you can also help us spread the word, this family-operated micro business committed to precision production in the USA and competitive prices will greatly appreciate all such support!

BRAND NEW!! INTRODUCING OUR INCREDIBLE SIEGE® BELT
— "The Invincible Belt!™"

If you are looking for the ultimate EDC gift for yourself or for someone special this holiday season, we have a limited introductory number of these available. Visit SIEGE Belts for details on these one-of-a-kind artisan-hand-crafted USA-made belts with speed, durability and capabilities not found in any other belt.

The master craftsman who designed these highly prized belts had to put production and sales on hold several years ago, to focus on other projects and, more recently on health challenges. The belt he originally gave us has been worn almost every day for almost 10 years with no signs of wear on the belt or buckle. We love the belt so much that we convinced him to teach us the art of making them (each buckle takes almost an hour to hand craft, with additional time to cut and prepare the belt strap to the customer's required length). We are excited to be able to bring back these uniquely functional belts under the Siege brand!




Our patented universal Cross-Members also make the most versatile,
compact and affordable stove system:

For as little as $24.99 + shipping, with a set of our universal Cross-Members, you can create an efficient, high-powered, extra-stable biofuel stove from almost any common can (all the way up to gallon paint cans!)
— a stove that in magazine reviews outperformed all other well-known and much more pricey stoves.

Note: The cost of Titanium has been going up! Our most recent material order was at a much higher cost, but for now we are basing prices for our remaining stock of stoves and Cross-Members on Ti costs from over a year ago, so now may be the last opportunity to buy at these low prices.
For comparison, similar capacity stoves to our Ti Flat-Pack stove are selling on Amazon for $160 (for a made-in-China stove!) to $220 (for a stove that is not even 100% titanium!). What's more, the Siege Stove significantly outperformed both these stoves in an independent magazine test (in Be Ready Magazine's Annual Survival Guide, the Siege Stove outperformed all nine other well-known and more pricey stoves, with the fastest boil time by a wide margin). Siege Stoves are also built so that they can always be depended upon in a survival situation, and will last generations. Hinged flat-pack stoves, on the other hand, are known for having expansion problems that prevent them from folding up after warping with use (in order to mitigate this they make their bases very weak and have to warn users to not even tamp down the coals!), as well as hinges that break down over time. The Siege Flat-Pack Stove takes around 25 to 35 seconds to set up and 10 seconds to break down — no need for heavy hinges that can fail! Weighing just 11 oz, the Siege Flat-Pack Stove (with Cross-Members) is also much lighter than comparable hinged stoves and takes less space in one's gear when collapsed.
Costing as little as $24.99 to $34.99 plus shipping, our canister-configured stoves also are a much better value than popular wood-gas canister stoves such as the steel Chinese-made Solo Titan Stove, which sells for $90, and has limited fuel capacity, requiring constant fueling and has a very unstable pot support (the pot sits on three little narrow-set posts, which are spot-welded (customers have also reported to us that these easily break off, and the Solo stove's steel rusted from dew after leaving it out overnight). In a SIEGE Stove there are no mystery metals or low-quality alloys. We have subjected Siege Stoves to extended rust tests, with no corrosion.

Hole Punching Turorial: How to create your own Siege Stove from almost any common can:

There's never a better time to prepare than today

In a crisis, a reliable wood stove is the safest insurance
for cooking game and boiling water

Watch early versions of the SIEGE® Stove in action
Siege Stove co-founder, Ken Young, inventor of the world's first sport sandal, Alp Sandals (now owned by Teva) demonstrates early versions of the stoves and accessories (we have since added many more features and improvements!):
(if the video below doesn't play, you can watch it on YouTube)

"With all the different stove designs one can create,
it's like the Swiss Army Knife of camp stoves!"
Get started with a set of unique, patented universal Cross-Members, designed to fit almost any common can
— essential for every survival pack and camping kit

Below is a review of an earlier edition of the Cross-Members by German bushcraft expert Kai Sackmann:
Note: He was unaware of the ability to use the Cross-Member fangs to make holes in the can, and instead used his bush knife (this will dull the blade and is not recommended)

SIEGE

®

: a stove like no other
Siege® Stoves are engineered for extremes and precision-made in the USA from US-produced aerospace-grade titanium and stainless steel, in thicker grades than are typically used in other camp stoves. The patented design makes the SIege Stove the most scalable and versatile stove on the planet, with best-in-class boil times, durability, and stability. In magazine reviews the Siege Stove has outperformed all of the (more expensive) stoves it was compared to.
After years of perfecting the SIEGE® Stove, and with thousands of happy users around the globe, we launched a crowfunding campaign
Since this Kickstarter video was produced, the Siege Stoves and accessories have been upgraded. Links to more details are below.
Easily upgrade your Cross-Members with the ulimate Flat-Pack Stove and the unique SIEGE® accessories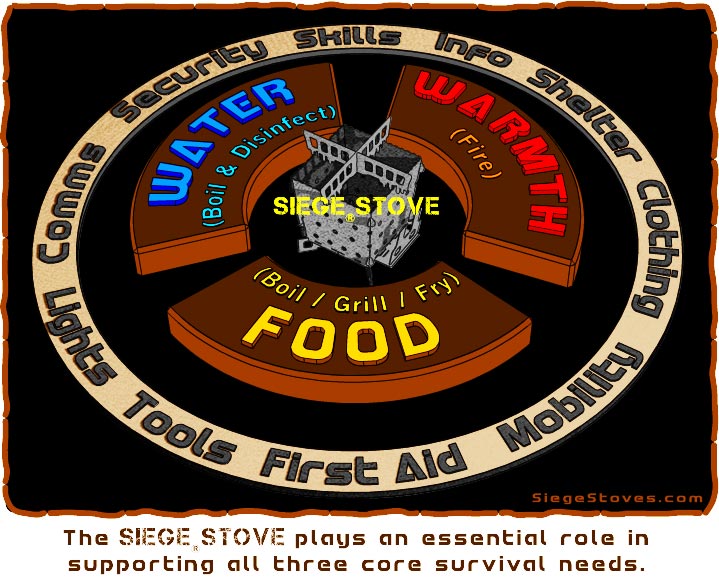 A wood-burning biofuel Siege Stove will quickly pay
for itself in fuel savings over synthetic-fuel stoves: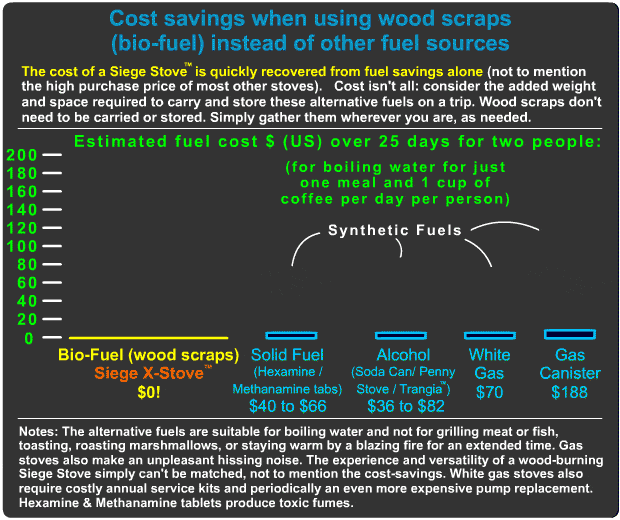 We stand behind our products with top grade US-produced materials and a commitment to delivering an exceptional customer experience
We always aim to overdeliver. We completed our successful Kickstarter Campaign and delivered all the stoves in just two months (very unusual). We even gave our backers surprise upgrades to improved and more detailed designs of the stoves and accessories, at no extra cost (even more unusual).
SIEGE® STOVES is a family-run business dedicated to producing exceptional products in the USA from top-grade US-made materials at very reasonable prices. We have thousands of loyal customers around the world, who know they can count on their Siege Stoves to perform wherever they may be.
Made from US-produced aerospace-grade titanium and stainless steel in thicker grades than is commonly used in other stoves,
Siege Stoves are designed to outlast the pyramids, and will reliably serve you and your descendants for generations to come!
To keep prices low, we only sell direct to end users, and with low margins. For this reason our marketing budget is very limited, so any help we can get in spreading the word about these extremely versatile, extra-stable, highly efficient US-made stoves is greatly appreciated. Join the movement to support quality products made in free and friendly nations!
How the SIEGE® STOVE compares
In Be Ready Magazine's Annual Survival Guide, the Siege Stove outperformed all nine other well-known and much more pricey wood-burning stoves, with the fastest boil time by a wide margin. In the words of one reader, the Siege Stove "beat them all hands down!" With its 7" diameter pot support and 7" dia. base, the Siege Stove is more stable than other stoves on the market. We also use thicker grades of titanium / stainless steel than is used in most other camp stoves, which in our tests warp unacceptably. The Siege Stove is also by far the most scalable camping stove on the market. Where other manufacturers sell their stoves in multiple sizes, each at a high price, with the Siege Stove universal Cross-Members, you can easily scale your stove from a small food can all the way up to #10 cans and even gallon paint cans, for next to nothing or free! It's like having many stoves in one. Whether you will be camping solo, with a few friends or in a group, simply take the size can to match your needs. Nothing comes close to a canister configured SIEGE Stove for the capabilities and versatility you get at such a low price.
The pinnacle of compact portable stoves:
beautiful, rugged, high-performance, and
multi-functional: the Siege Gen III Flat-Pack Stove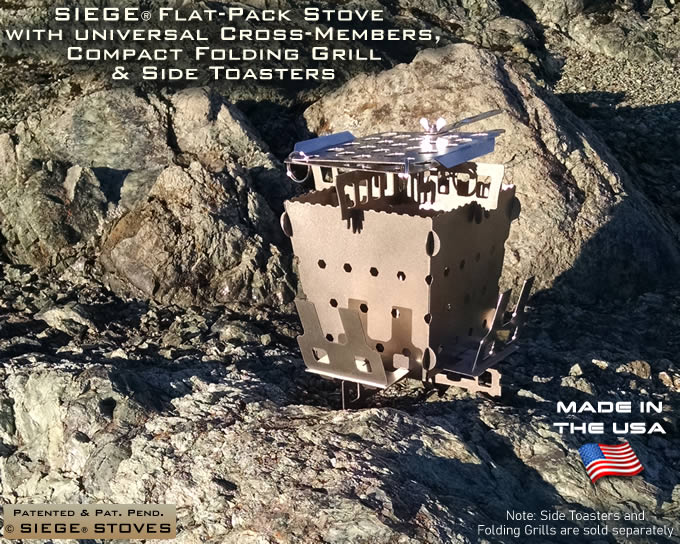 The fastest-boiling, lowest-cost, lightest weight (for such considerable fuel capacity),
most stable and versatile canister stove available:
SIEGE Cross-Members configured with an IKEA canister:

Siege Stoves (canister and flat-pack) are multi-fuel capable: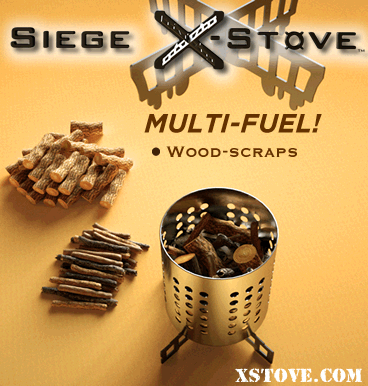 Roll over the image below for details
Help us get the word out about the unique US-Made Siege Stoves,
and encourage your family, friends and contacts to be better prepared!


With its super-light weight, broad heat footprint (no hotspots under a pot like other stoves), and considerable fuel capacity (no constant feeding required, unlike most other compact stoves), the Siege Stove is an absolute grilling , boiling, and cooking machine! Don't settle for a flimsy, unstable stove with limited capacity and power - in the outdoors and in survival situations one should never have a stove that is not 100% dependable.
That's not all! You can even create a superior wood-gas stove,
with capabilities not found in any of the expensive wood-gas stoves.
SIEGE Stoves are Multi-Fuel Capable:
WOOD SCRAPS (BIO-FUEL): Thicker material will burn for longer, and is better for grilling than thinner twigs. A set of loppers is a handy item to have for cutting short sticks of about thumb-thickness. Wood scraps are free and widely available in most places (not much is needed), so you don't need to carry it with you. Sitting around a wood-burning stove is also the most pleasurable experience.
CHARCOAL: Widely available. One negative: it's dirty to handle, but the positives are: it creates minimal smoke, minimal flame, and is less than 1/2 the weight of wood. In Siege Stoves, irregular chunks are better than briquettes.
LIQUID FUELS: An alcohol stove can be placed inside a Siege Stove (can be supported at an optimal height on a pair of tent pegs that are threaded horizontally through holes in the wall of the stove). Most liquid fuels are very toxic to breathe. Pure cane alcohol such as Everclear is a healthier choice, but is difficult to get in many states, because of state laws banning high-proof alcohol.
SOLID FUEL: Hexamine tablets, such as Esbit can also be supported in a Siege Stove on a small tray. These also produce toxic fumes.
GAS: A gas stove can be placed inside a Siege Stove. You will need to select a can that is large enough. A feeder tube can be threaded through a hole you make in the side of the can.
SIEGE® Stoves are made entirely in the USA
from US-produced materials!
Your support for a family-owned micro business dedicated to local manufacturing in the USA, and at the highest quality, is greatly appreciated.
IKEA® is a trademark of IKEA Corp. and is not affiliated with Siege Stoves. We re-sell their stainless steel canisters as a convenience to our customers.

Key Words: lightweight portable camping stove compact survival stove backpacking bugout bag tin can stove hobo stove grab and go kit & bug out bag #vanlife RV stove overland overlander kayaking canoeing bug-out bag back pack backpack, how to make a hobo can stove emergency and disaster preparation preparedness essentials prepper survivalist Siege Stoves backpacker tent outdoor backcountry hiking RV trailer home pack low-cost budget efficient wood scraps collapsible hibachi folding camp fire stand grill cook set steel cross-members titanium buddy burner alcohol sterno beer can soda stove kerosine hexamine esbit tablets trangia triox gel fuel rugged stable cannister strong, durable outdoors hunter's stove fishing horse car motorcycle motorbike ATV river wood gas tornado volcano pot pan fuel magnesium fire starter swedish steel matches lighter barbeque BBQ, bushbuddy quickfire surefire jet nomad twig snowmobile recession depression EMP shtf 1989 Tiananmen Square small folding fire box energy saving honey hexagon firebox fire box tin can Flat Stove portable legs supports woods Titan Seige Stove fire starter striker ferrocerrium rod fire steel swedish steel stufa a legna mini estufa de lea mini 8kg mini holz brennender herd kohlehaversack prep survival mini wood stove ferro magnesium fatwood
Miss-spelled Key Words: Portible campng stove Seige flat pak flatpak backpaker backpackng bacpack preper trailr emurgency disastur preperation preparadness esentials buget efficent collapsable colapsible gril cook set steel cross-members buddie burner ruged stabel canister liteweight fishin canoing gass sweedish steel canping stov compat servival survivel hikeing