Siege StovesTM — essential for your portable camping and backpacking gear, survival pack, bug-out bag or grab-and-go kit.
Wood-burning and Multi-Fuel SIEGE STOVESTM — Engineered For Extreme Versatility

Note: International can sizes may differ from those in the US and Canada, but we have sold hundreds of stoves all across Europe, Australia, New Zealand and around the world without a single customer telling us that they had any difficulty finding cans to fit their Cross-Members. There are many tab positions on the Cross-Members, they will fit many different diameter cans. They also fit the extremely popular IKEA Ordnung canister, which is available in many countries.
"With all the different stove designs one can create, it's like the Swiss Army Knife of camp stoves!"
BONUS OFFER: BUY NOW AND WE WILL THROW IN A FREE
ULTRA-COMPACT P-38 MILITARY CAN OPENER WITH EVERY SET OF CROSS-MEMBERS YOU ORDER!
Note: We are able to offer our products at these low prices because we are only selling direct to customers through our web site.
We expect the MSRP on the stainless steel Cross-Member sets will be $29.99, and $39.99 for the titanium sets.
Once we go to retail, the retailers will require us to support the retailers by selling them for the same price, so we recommend you get yours now.
The ultimate compact camping and survival stove: lightweight, virtually indestructible, high-efficiency, wood-burning, multi-fuel can & collapsible stoves.
Siege Stoves outperform other compact portable stoves that cost several times more! In a recent comparison of ten stoves in Be Ready magazine, the Siege Stove came out the clear winner. The Siege Stove had the fastest boil time (by wide margins), is the most durable, is significantly lighter than stoves, uses far less fuel, burns so well it doesn't need delicate fans and batteries, and is available at a price that blows other stoves right out of the backcountry!
There are essential items that should be in everyone's emergency survival gear, bug-out bag or camping kit. The Siege Stove Cross-Members are
one of them. With this system you can quickly convert food cans of a wide range of sizes, coffee cans, paint cans and IKEA canisters into a powerful, efficient, lightweight, portable stove. With two nested cans they can even be configured to function as a superior wood gas / gasifier stove!
BONUS OFFER: BUY NOW AND WE WILL THROW IN A FREE
ULTRA-COMPACT P-38 MILITARY CAN OPENER WITH EVERY SET OF CROSS-MEMBERS YOU ORDER!
The venerable P-38 makes a perfect complement to the Cross-Members, for an all-in-one survival system. Clip them together and stow them in your car, emergency gear or camping kit, and you will be able to open a can, empty the contents into a mug, pot or pan, and quickly turn the can into a stove.
We make our stoves with pride right here in the USA. We are committed to producing our stoves in the US to the highest standards, while keeping prices as low as possible. By selling direct to consumers, our prices are much lower than they would normally be at retail.
WE NEED YOUR HELP: Our customers find us by chance and through word-of-mouth. Whether you just found us or already have a Siege Stove, please help us spread the word on forums and social media, and tell your friends about our USA-made stoves. Even just a mention of our products on bushcraft/prepper/survival/camping/backpacking/outdoor adventure forums will help! Based on all the awesome feedback we consistently receive, we are confident that you will have an excellent experience with a Siege Stove. You will also be helping to inform others so that they can be better prepared. If you have any questions, please contact us!
The Siege Stove Cross-Members are precision laser cut from high-quality 304 stainless steel and aerospace-grade titanium,
and then go through a three-stage process — vibration to smooth the edges, belt sanding to de-burr them and sharpen the fang tips,
and finally random orbital sanding by hand to give them an attractive surface finish.

Watch an early edition of the Siege Stoves in action (note: they used to come in two sizes before we introduced the universal size):
* Ultra-light Backpacking * Horse, Kayak, Car and Motorcycle Camping * Prepping, Survival / Emergency Preparedness *
Note: We used to have two sizes of Cross-Members, Compact and Large. We since combined them into one Universal size that fits the full range of cans plus the popular IKEA® canisters. You can now make the best possible IKEA hobo stove!
You can learn more about using an IKEA Ordnung kitchen cutlery caddy or utensil drainer to make a hobo stove here.
(Note: IKEA® is a registered trademark of IKEA Corp. and is not in any way associated with us at Siege Stove Works).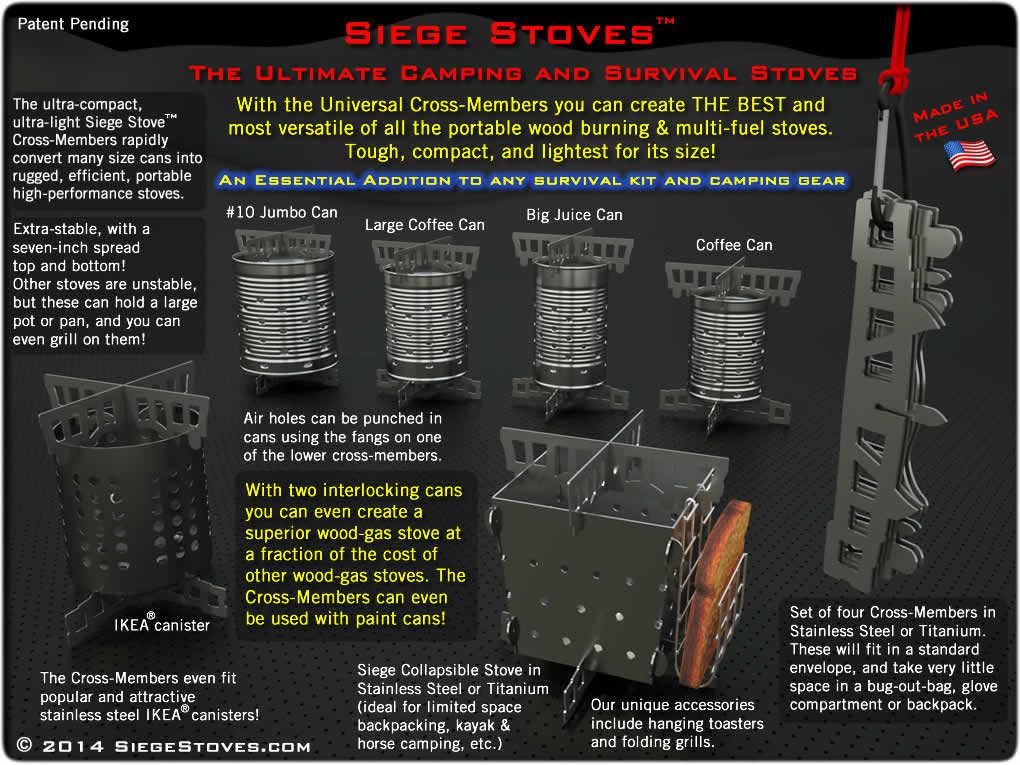 OUR NEW UNIVERSAL CROSS-MEMBERS WORK WITH MOST COMMON CAN DIAMETERS 4" AND ABOVE,
PLUS IKEA CANISTERS, PLUS QUART AND GALLON PAINT CANS, PLUS OUR SIEGE COLLAPSIBLE STOVE!
These are now available in Titanium and Stainless Steel.
Below is an excellently produced video by a German bushcraft expert showing an earlier edition of the Cross-Members.
Note: The reviewer takes just the cross-members and a can of food with him (no other stove equipment needed!),
opens the can, empties the contents into a pot, and eats like a king the first day (no freeze-dried food!).
He crushes the can when the trip is over, and simply prepares a new one the next time.
We didn't tell him about the built-in air hole-making capability, so he used his bush knife to make the can holes.
For ultra-light Backpackers: With our unique patent pending cross-members you can quickly turn almost any common can into a strong, stable, lightweight and efficient portable camp stove. The resulting stove has much more fuel capacity than most other collapsible wood fuel camp stoves, and is extremely light for its size. Not just for boiling a mug or small pot of water, the Siege Stove is big enough to grill on! Grill burgers, fish, chicken, etc. This cooking experience is much more satisfying than with other folding stoves, which tend to be very small and precarious. With Siege Stoves you can have a real barbeque! You can save a bundle by using collected wood scraps and the versatile Siege Stove is also a fantastic platform and wind break for non-wood fuel sources (gas, alcohol, solid and gel petroleum-based fuels can be supported on tent pegs inside the stove). Only a very small amount of wood fuel is needed with this efficient stove. Because the cross-members can turn a can of food that you are already carrying into a stove, you don't have to have a separate fire container, so it's a great solution for space and weight-conscious backpackers. We also have an utra-compact titanium Flat Stove that fits either size cross-members and can collapse down to fit in a sandwich bag.
For Campers (horse, kayak, car and motorcycle camping, etc.): The rugged steel or titanium cross-members are virtually indestructible, store flat and work with various food cans (we sell pre-punched cans for your convenience) as well as our titanium Collapsible Stove, which quickly assembles into a large trapezoidal fire container with lots of capacity for fuel. Prepare a meal quickly without having to build a large camp fire. It's also a perfect solution for temporary camp sites where fire pits aren't available and when you want to quickly cook a meal without having to gather the large amount of wood that a pit fire requires.
For Preppers and Survivalists: You won't find a more versatile or durable survival stove anywhere! With a single set of universal EDC cross-members you can quickly turn virtually any large can into a complete cooking kit that is sturdy, stable and has plenty of capacity to hold a substantial fire. If you were to order just one item, the cross-members would be it! For convenience we provide pre-punched cans - use one to store your cross-members, fire starter and other items, or you can purchase our Flat Stove that attaches to the cross-members. We even provide pre-cut wood for those who want the convenience. For extended survival and situations in which you are on the move, nothing beats wood fuel, which can be gathered as needed. Petroleum-based fuels are expensive, you have to carry them with you (adding significant weight and taking up space), and not easily obtainable during disasters. This is the ultimate hobo can stove (you can make your own coffee can stove / tin can stove / hobo stove — just be sure to add a set of cross-members to stabilize it).
The compact cross-members should be in everyone's grab-and-go pack / bug-out bag or camping kit. With just the cross-members you have a way to turn virtually any large food can into stable and highly effective stove. There simply isn't anything else like it. Put the cross-members in a pocket or pouch, or hang them from a backpack via a lanyard or carabiner and use them with food cans that you carry or find. Any time you empty the contents of a can into a pot or pan to make a meal you will have an empty can you can use as a stove! Simply punch ventilation holes in the can with a pocket knife and you are ready! Keep the can and reuse it. For added convenience we also supply new pre-punched cans, and for an ultra-compact solution we offer the titanium or stainless steel Collapsible Stove. Our stoves are made right here in America.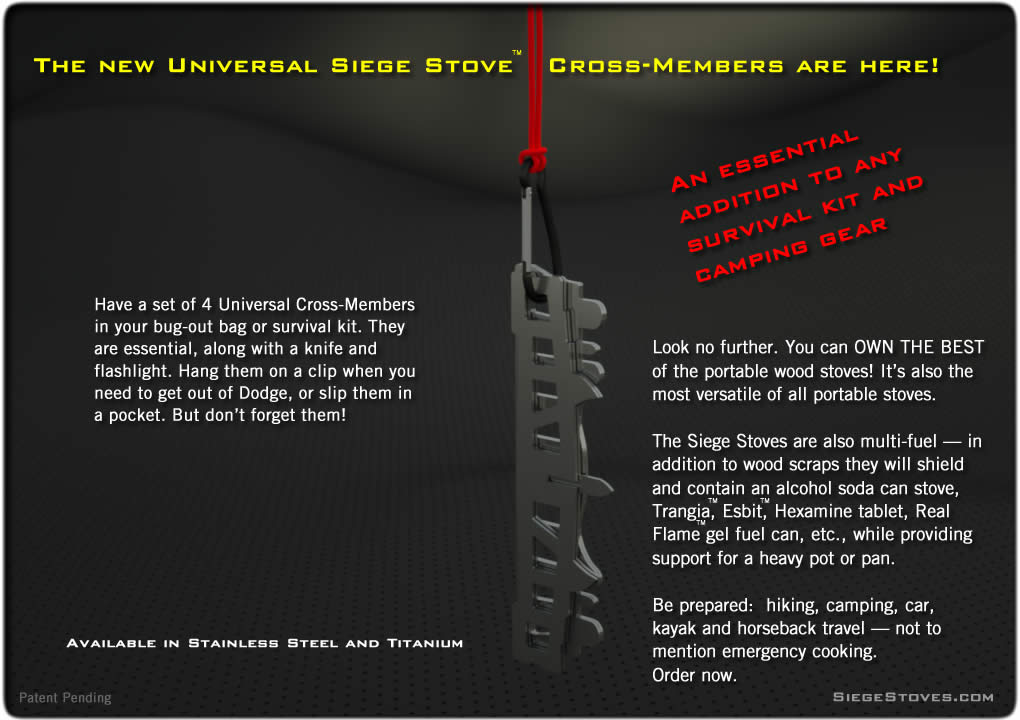 Here's what people are saying about Siege Stoves:
The X-Stove is wow possibly the most versatile piece of gear a person can have on them. It has a footprint just slightly larger than the average knife. I can't think of a single reason why a person wouldn't keep this in their outdoors bag. Even if you already have a favorite stove, you should have at least one of these as a backup. It'll probably end up as your primary. The X-Stove is just too useful to pass up. — Kris P, Florida
... I heard about your cross-members/stoves in "Be Ready."  It was part of a wood-burning stove comparison between ten, portable, compact stoves.  ... your stove cross-members and components won hands down! — Mike M, Colorado
In Be Ready magazine's comparison tests the Siege Stove with an IKEA® can boiled water the fastest by a wide margin (just 4 minutes to boil 18 oz, compared with 5, 8 and even 12 minutes for the other stoves!) and of course, the price was unbeatable!
Absolutely fantastic and I want one. . . 3 years ago our city was pretty near flattened from several earthquakes and since then I have been buying suitable survival equipment that should more quakes occur, that see us with no power, limited water and no where to live then we have to be prepared.
Your stoves are something everyone should have. — Cyril M, Christchurch, New Zealand (outdoor gear expert and former fire fighter)
I have received the order here in Alaska. The supports really work great on a #10 can. It works and burns way better than my new $150.00 [other] stove. — Cecil R, Alaska
I teach private urban/wilderness survival and disaster prep. I just found your stove while doing my own private, hands on, research for a wood stove to suggest to my students. I have been searching for a stove to handle both bug out and bug in situations.
I have found most flat pack or folding stoves to not be durable enough. Gassifiers both down draft and up draft are too complicated and finicky.
I am fond of the fact that your universal cross-members basically create treasure out of trash . . . Timing is great, as I had just started designing my own stove out of frustration.  — GH, Massachusetts
I would like to thank you for such a great product. I recently bought 22 of your units to give away as gifts in my Christmas list.
In our neighborhood we have a great deal of hunters and campers and for those of us that don't hunt or camp, we carry a foul weather kit in the car for the just-in-case scenario.
Years ago I bought a wood gas stove costing six times what I paid for the siege stove. I am so glad that I discovered the siege stove. From the responses I have gotten already, everyone loves the product and some have already used theirs for their trips out deer hunting in the mountains. Thank you again ... it was an easy gift to give! — Ken H, South Dakota
I have already ordered one set and they are fantastic.  Now I could use 2 more. — Robert C, Ohio
Congratulations on creating such a brilliant and fairly priced piece of equipment. — Thomas B., United Kingdom
My cross members arrived on Saturday. That was fast!
just wanted to say thank you for the products, and most importantly, your attention to detail and communication! — Ray H, New York
I had been looking at another stove that gets a lot of press about being able to charge mobile devices . . . until I learned how slow it charges and watched Youtube videos where it took constant fueling for nearly two hours to get less than ten percent charge on an iphone! And they couldn't even cook at the same time because they had to take the pot off in order keep adding wood! With that and the over 2lb weight, it was clear that I would be far better off buying the best-in-class for each task, such as a portable solar charger for my backpack and the optimal stove. Then I found the ultra-light Siege Stove - tougher than nails with no gimmicks, no gadgets, no plastic housing to melt, fans and electronics to break down or batteries to die. It's perfect for me, and for a group trip I can even combine it with a lightweight gallon paint can and save three hundred dollars over the other guys' crazy heavy (almost 18lbs) group stove! Amazing. The shipping cost alone on the other stove is more than the cost of a Siege Stove.
— Mike S, California
Note from us: in some of our X-Stove tests we have had our fires hot enough to melt aluminum — how long your investment will last or if you will be able to depend on it never failing when you need it most is something to seriously consider before buying a stove that has any plastic or electronic parts or batteries. You can be confident that your X-Stove cross-members will never break down!
I have gone through lots of utube video regarding stoves and found that your way of making stoves are the one that I am going for. — Sargeant L. Kuala Lumpur
I wanted to write and say how impressed I am with your product and its design. I have shared your website with several friends who also were blown away and have placed orders. — Vann W, North Carolina
We're giving them as gifts to people we know who like to hike, and keeping one for ourselves. There'll probably be more orders later. 
The stove is one neat gadget. Thank you for creating it. — Geoffrey K, California
I've researched a while. [Another stove] was my favorite option till I watched your video. Your product is exactly what I had hoped for. — Gene I, North Carolina
First can I say what brilliant inventions the siege stove and its accessories are, perfect to use regularly and to store extras away for when trouble comes. — Peter W, Hong Kong
You are on the short list for my bug-out/prepper resources! — Gary P, Delaware
These are a Must Have in my Backpack. — Thomas S, Germany
...simple and effective, I got the idea presented right away and knew it would work from watching the Youtube video.
The equipment worked well, stowed well and ... as you say there was always fuel around. — Steve C., kayaking camper, Ontario, Canada
Please ship it urgent, I will need it at February at my trip to Himalaya — Kirill P, Russia
Got them! They look great, and like you say, solid when put together! — Kevin Y, United Kingdom
Loved your website & stoves - what a great idea. — Richard B, UK
Your stoves looks to be a good Idea. Camping or a bug out situation. — George A, USA
Just wanted to let you know:  I received the stove kit and I'm delighted with it.  Thank you!! — Lou M, Maine
I love your product, I teach an EMERGENCY PREPAREDNESS FUNDAMENTALS class at my church. — Randy B, California
I've been telling the stories of your stoves to others, ... it's just a great tool. — Elliot K, California,
I am engaged in underwater hunting. And often it is necessary to cook food on a fire. I like to live in harmony with nature. Use a minimum of means, for cooking. And, to apply minimal damage to nature. ... your device will help me in this. — Konstantin B, St. Petersburg, Russia
Your personal touch is greatly appreciated. There isn't enough of that in the world today. — Loston C, Washington
Wow these are great. They fit the rugged ikea like a dream. — Ralph F., Mount Carmel, TN
Hello, I absolutely love your product. I am a hunter, outdoorsman, and retired Marine.— Christopher S, USA
From someone who purchased a well-known competing stove: I'm a camper and generally into preparedness ... the [other much more pricey stove] felt flimsy and seemed tough to use, ... I just threw it in a drawer. I wish I had gone with a Seige.  — Brad, Massachusetts
FYI - I have used it the last couple nights here on my patio...works great, much better than my wood / gas stove I was using...that being said, I ordered three more as Christmas gifts. Thanks again, have a great Thanksgiving!!!! — Kelly S, California
I could try to make my own hangers [toasters] but they would never be as well made as yours and for the money why bother, you have solved all the issues. Looking forward to being "BeSieged". Michael S, Greentown, PA
The Cross-Members are incredible! I wish I had bought them 20 million years ago! — Steve C, Illinois (an avid outdoorsman who started making his own hobo stoves at age 11, and after decades of building stoves was still looking for a better solution when he finally found the Siege Stove web site and immediately grabbed our of our latest sets).
The kit arrived today and I must say that I'm really impressed and satisfied! I already tested it and with the no nonsense design it just works! I have tested quite a few hobo and rocket style stoves + the multifuel burners, but this easy setup is definitely my favorite of all times now — Veljo V, Estonia
The Siege Stove is the only camping and survival stove that can scale to suit a wide range of group sizes. Whether you are going solo, with a buddy, or with a large group, the Siege Stove can adapt to your needs! Just take the appropriate can size and enjoy your time in the bush, knowing that you will be able to easily prepare meals and boil water for everyone.
Wood-Gas Stoves / Gasifier Stoves and Paint Can Stoves:
Using our Universal Cross-Members, you can now create a superior, low-cost wood gas / gasifier stove with several advantages over other wood-gas stoves. Find out more here.

NEW! at the request of Siege Stove owners: The Collapsible Siege Stove is now available in Stainless Steel. While the Titanium stove is lighter for long distance backpacking, the Stainless Stove is excellent for everything else including: canoeing, kayaking, whitewater rafting, horseback trips, car, motorcycle, & RV travel, and emergency survival situations for cooking at the house or homestead. It also, works fine for those hardy souls who don't mind packing a little extra weight. Both Stainless Steel and Titanium are impervious to salt water.
STANDARD CAMP STOVE SAFETY WARNINGS:

The punched holes inside the cans are sharp. Avoid putting your hand inside.
Camp stoves are not for use by young children. As an adult, it is your responsibility to determine whether or not your older child is responsible enough to use a stove, and to closely supervise the child at all times. Siege Stoves are popular with parents of Scouts.
Give your stove ample time to cool down before handling it and exercise common sense, as with any fire.
Do not move a stove that is hot or has fire in it. To move a Siege Stove after it has cooled down, carefully grip the two ends of the lowest cross-member underneath (the one with the notches at each end).
Siege Stoves are not for use indoors or in confined, poorly ventilated areas. Avoid breathing smoke from fires.
A small minority of cans are galvanized inside (e.g. tall pinapple tins). This coating can be identified by its mottled metallic appearance. Zinc oxide fumes produced from heating galvanized metal are toxic to breathe. In a well ventilated outdoor environment, fumes should mostly go up with the hot smoke, but to be safe

DO NOT USE GALVANIZED CANS

. Many other cans have plastic linings, which will quickly burn off with the first use. Just stand back and let it burn off for a few minutes.
Always use your stove on an even, level surface, such as a flat rock, bare dirt or a metal pan, away from flammable materials and dry grass or foliage. The bottom of the stove can get hot enough to burn wood, paper, weeds, etc. Give yourself enough clearance so that if you do knock your fire over, the hot coals can't fall on you or your companions, or start a brush fire.
Observe local camp fire rules. Never leave a fire unattended. Completely extinguish all embers, soak them and bury them deep.
There you have it! Place safety first, and enjoy a natural wood-burning fire under the stars with your new Siege Stove!